How much will CO2 emissions be reduced?
Current CO2 reduction policies involve capping total emissions through a system of tradable allowances. There are both regional and multilateral initiatives:
The EU unilateral plan will reduce emissions by 20% by 2020. However those emissions which are in the ETS will need to reduce by a greater amount (by about 25%). In the accompanying report, this is called the 'Red Scenario'
Current US proposals are for a cap and trade regime that targets peak carbon around 2020 with emissions 60% below 2005 levels by 2050 The IPCC category II proposals also target peak carbon in 2020
The IPCC Category I proposal is to achieve reductions to 25-15% of 1990 levels by 2050. The EU has said it will work towards a 30% reduction by 2020 if multilateral agreements are reached. In the report, this is called the 'Orange Scenario'
The IPCC would like heavy reductions of CO2e. Many Developing countries want Europe and N.America to bear the brunt of CO2 reduction. They propose allowances for developed countries to be reduced to 40% of of 1990 levels by 2020 and 10% by 2050. In the report, this is called the 'Green Scenario'
Which of these scenarios do you think is likely to happen?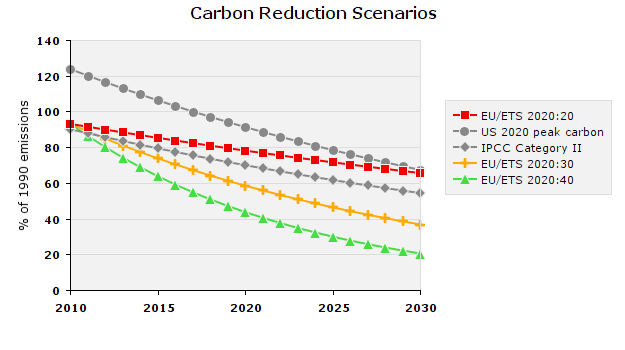 % of 1990 CO2 emissions allowed

Red Scenario


EU/ETS 2020:20
US 2020 peak carbon
IPCC Category II

Orange Scenario


EU/ETS 2020/30

Green Scenario


EU/ETS 2020/40
2010
93.00
123.67
90.00
93.00
93.00
2011
91.38
119.96
87.75
88.77
86.21
2012
89.79
116.36
85.56
84.73
79.92
2013
88.23
112.87
83.42
80.87
74.08
2014
86.69
109.48
81.33
77.19
68.68
2015
85.19
106.20
79.30
73.68
63.66
2016
83.70
103.01
77.32
70.33
59.01
2017
82.25
99.92
75.38
67.13
54.71
2018
80.82
96.92
73.50
64.08
50.71
2019
79.41
94.02
71.66
61.16
47.01
2020
78.03
91.19
69.87
58.38
43.58
2021
76.67
88.46
68.12
55.72
40.40
2022
75.34
85.81
66.42
53.19
37.45
2023
74.03
83.23
64.76
50.77
34.72
2024
72.74
80.73
63.14
48.46
32.18
2025
71.47
78.31
61.56
46.25
29.83
2026
70.23
75.96
60.02
44.15
27.65
2027
69.01
73.68
58.52
42.14
25.64
2028
67.81
71.47
57.06
40.22
23.76
2029
66.63
69.33
55.63
38.39
22.03
2030
65.47
67.25
54.24
36.64
20.42
2031
64.33
65.23
52.89
34.98
18.93
2032
63.21
63.27
51.56
33.39
17.55
2033
62.11
61.38
50.27
31.87
16.27
2034
61.03
59.54
49.02
30.42
15.08
2035
59.97
57.75
47.79
29.03
13.98
2036
58.92
56.02
46.60
27.71
12.96
2037
57.90
54.34
45.43
26.45
12.01
2038
56.89
52.71
44.30
25.25
11.14
2039
55.90
51.12
43.19
24.10
10.32
2040
54.93
49.59
42.11
23.00
9.57
2041
53.97
48.10
41.06
21.96
8.87
2042
53.03
46.66
40.03
20.96
8.22
2043
52.11
45.26
39.03
20.00
7.62
2044
51.20
43.90
38.05
19.09
7.07
2045
50.31
42.59
37.10
18.22
6.55
2046
49.44
41.31
36.18
17.39
6.07
2047
48.58
40.07
35.27
16.60
5.63
2048
47.73
38.87
34.39
15.85
5.22
2049
46.90
37.70
33.53
15.13
4.84
2050
46.08
36.57
32.69
14.44
4.48
Annual
Reduction
Factor
1.74%
3.00%
2.50%
4.55%
7.30%
Sources
Source for IPCC scenarios:
Source for EU/ETS data
Source for US CO2 production: